This is the first in a series of articles looking at service-providers IdeaRocket partners with.
Here at IdeaRocket we love producing quality animation. But it is a challenge. Great animation is a time-consuming process that needs to combine artistic flair with military precision.  As we grow as a studio we have to juggle multiple projects at once and know where each video we are producing is along our production pipeline.
Animations go through multiple stages of production. The following video shows a single project in three separate stages of the process: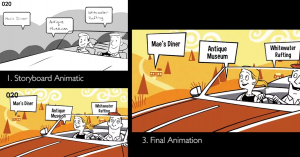 Managing the process
This process has to be closely coordinated, with every step ready to go when the previous stage is finished. That's where Tom's Planner comes in. Tom's Planner is a Gantt-style project management web app that allows us to manage each of our productions and know at a glance where each project is along the pipeline. It allows us to easily coordinate our team, keep clients informed of their video's production, and make sure nothing is missed in the animation process.
"It's simple to use and simple to look at. Anyone can learn to use it in a few minutes," says Nick Esposito, IdeaRocket's Studio Manager. "It creates visually appealing and easily understandable charts and timelines for projects, and it is extremely affordable. It's easier to use than Microsoft Project, and quicker to set up than Microsoft Excel. Other software is too cumbersome and not as helpful."
You can see how easy it is to use by playing around with the example available on the webpage. With the right-click menus you can add project stages, meeting and milestones, and using drag-and-drop you can change the length of any of the project stages. It does not require training as more extensive programs such as Microsoft Project do.
Tom on Tom's Planner
This ease of use is what made Thomas Ummels invent Tom's Planner in 2009. "Previously I had been working as a project manager for 6 years and one of the things that bothered me most as a project manager was the often-frustrating process of making Gantt Charts," Tom told me over email. "The available software was mostly way too complicated and had manuals of over a thousand pages and so lots of people made Gantt charts in Excel which was far from ideal and cost a lot of time. So I decided to try and develop a tool that would do a better job. Something simple but super effective."
It is also this accessibility that Tom believes is behind the success of the software. "It might not have all the bells and whistles that our competitors have but it's so much easier to use and for 90% of all projects you don't need any fancy features. Usually you just need a simple tool to do the job fast and effectively. That's what Tom's Planner allows you to do," says Tom.
After Tom invented the program his friends started using his software, nicknaming the tool Tom's Planner, before he released a beta version for anyone and everyone. "It's used for a really wide variety of things. We have several fortune 500 companies, government agencies, universities, banks and high tech companies using the tool. But also single freelancers that use the tool for their own business," says Tom, "It's used for big projects like the moving of entire offices, building projects, large IT projects etc. But also for small personal projects like rebuilding a house, weddings or a road trip. We also see people managing their resources with it. A helicopter company plans all their flights in our tool and others use it to keep track of the vacation days of their employees."
Attractive as well as intuitive
Another reason we chose Tom's Planner as our project management tool is that it looks great.
For Denise McArthur, one of IdeaRocket's account managers, this means she can share these charts with our clients gladly. "It looks professional and is appealing to the client as it is right there in front of them and to the point – here are the deliverables and the deadlines," says Denise.
Using the Planner in the sales cycle
The Gantt charts Tom's Planner produces can also help earlier on in the process. Dan Englander was IdeaRocket's first-ever employee, helping to build the animation house in New York and bringing in the first big clients that established the business. He has since founded his own sales consultancy practice, Sales Schema, in the Washington, D.C. area and written a book, Mastering Account Management, sharing his sales and marketing wisdom.
He was the first to use Tom's Planner at IdeaRocket and continues to use it, both as a project management tool, and as a sales tool. "It is great as a sales tool," says Dan, "It is great to visualize how people will work with you. It helps to bring people into the sales cycle and ties people to a particular timeframe because it is hard for people to conceptualize how long it will take to get something done."
The nuts and bolts
Licensing comes in three flavors. For the always winning price of free you can use Tom's Planner as an individual, planning a single project. At $9 per month, you get the Professional version, where you can manage up to 20 different projects and invite others to collaborate. For $19 per month you can get the Unlimited version that IdeaRocket uses, allowing you to manage as many projects as you need, collaborate fully with others, and add as many project members as you see fit.
So whether you are NASA needing to plan your next mission to mars, a student scheduling time for dissertation writing between parties, or an animation studio producing awesome explainer videos, Tom's Planner can help you manage your projects and help deliver you, your clients, or Martians what they want.