LendLedger is in the business of making it easier for small business to get the loans they need — and their approach is a novel one. The tech startup uses blockchain to help facilitate data transfers needed to make loan approval more accessible for business that may lack the credit history to obtain a loan through more traditional processes.
LendLedger was founded by CEO Gautam Ivatury, and co-founder Manish Khera, off the back of their existing business, Happy Loans, which is already powering loans at a run-rate of $30 million per year.
Navigating the ins and outs of financial services can be difficult enough for consumers, especially for new business owners who may just be getting started. LendLedger needed a way to make understanding their service easy, and approachable for all audiences. So they turned to IdeaRocket to create an animated explainer video that's short, digestible, and powerfully informative.
IdeaRocket sat down with Ivatury to discuss the project, and how animated explainer video helps them break down the complexities of the blockchain:
IdeaRocket: Tell me a bit about LendLedger.
Ivatury: LendLedger is a blockchain-powered network that brings together lenders, data providers, and borrowers, to unlock credit for over 200 million micro, small, and medium-sized businesses (MSMEs) that are financially underserved.
These MSMEs are today unable to access loans from established institutions. It's not because they are unreliable or non-profitable. Rather, they lack the traditional financial documentation that institutions require to lend to them. Globally, this amounts to a $8 trillion credit gap which is growing exponentially as the years go by.
Using blockchain to enhance the applications of data driven lending, the LendLedger network connects lenders, borrowers and data providers in a way that benefits all parties. Data providers are endowed with the capacity to monetize the data they have on borrowers. Borrowers can receive the loans they need, and Lenders can give out more loans.
IdeaRocket: Blockchain can be confusing to understand if you're not familiar with how it works. What challenges do you have trying to navigate this?
Ivatury: It's important to note people are becoming acclimated to blockchain at an ever increasing rate. Especially in our target markets, where fintech at large provides opportunities for those who have been left out by the traditional financial system. We've seen an incredibly positive response to our project, not least because our team placed a strong focus on making LendLedger technology easy to adopt.
On the platform, both lenders and borrowers deal exclusively in local currency, instead of crypto. We like to think of blockchain and crypto as our platform's plumbing; it makes the system work seamlessly, and transparently, but never has to be a part of the user experience.
IdeaRocket: Why did LendLedger choose an animated explainer video as a solution?
Ivatury: We wanted to add an animated explainer video to our existing range of assets. We already had our website, our overview, and our technical paper, which details the project at length. We also have our telegram group, where people can post queries and receive an instantaneous response from our team.
Animated explainer video offered us another exciting way to provide a high-level overview of our platform, and why it was created. We love the graphics, and we think it really brings the value of blockchain-based lending to life.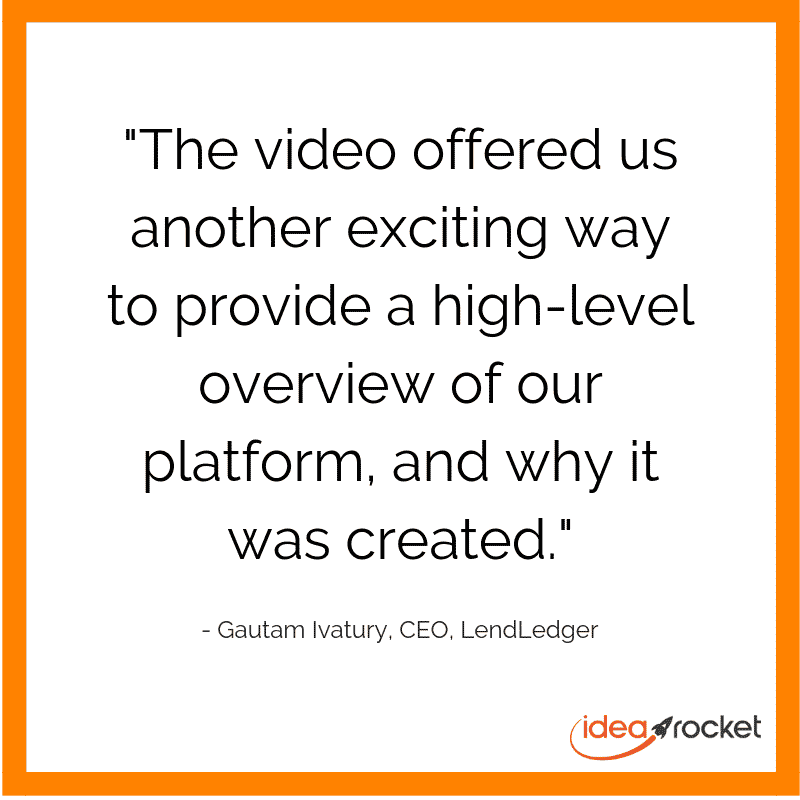 IdeaRocket: How did you decide on the right story to tell?
Ivatury: LendLedger is focused on financial inclusion. We've already operated Happy Loans for over a year. There are thousands of stories of individuals who have benefitted from the platform, and whose successes exemplify the need for a scalable financial inclusion solution. We wanted to show how such successes can simulate a positive multiplier effect on a global scale.
IdeaRocket: How does the video fit in with the rest of your business strategy?
Ivatury: The animated explainer video helps people get a quick understanding of both the problem and our proposed solution. A $8 trillion credit gap is a colossal number. Those financially underserved are not only in emerging markets, but in developed countries too. Increasing awareness of this global issue and how blockchain technology has the power to solve it, is key.
Click here to learn more about how IdeaRocket can help bring your next video project to life.