Believe it or not, 2022 is almost here. As we plan for a new year of video marketing, we asked marketing professionals, video experts, and business leaders to share their predictions for video marketing trends in 2022.
Steven Holms Videographer at Home Grounds told us, "Video has taken the marketing world by storm the past few years, and it shows no signs of slowing down."
Our other experts agree. As we look forward to the new year, they've identified several video marketing trends for 2022. Some may sound familiar, others are just starting to spread.
The Continued Rise of TikTok
We start with TikTok, because this rising social platform may have more of an effect on the video marketing landscape in the next year than any other platform or technology.
"I think TikTok and TikTok-inspired features on other apps are going to reign supreme," said Pinterest Manager and Strategist Laura Rike. She expects that TikTok-style marketing will spill into other areas of marketing.
This may create a learning curve for marketers, warns Todd Ramlin, Manager at Cable Compare. "Businesses that want to be successful using TikTok will have to be clever in the types of short-form videos they create for the platform. It's unique and will require effort to craft effective videos."
How will marketers do it? With user-generated content, says Steve Scott, CTO of Spreadsheet Planet. "Consumer trust and buying decisions are influenced by user-generated content over time," Steve said. "Rather than fighting the trend, you can work with happy consumers to turn them into brand ambassadors. Customers can create video content for their own social channels, which you can then reshare to increase its exposure."
He encourages marketers to create referral programs, offer incentives, and simply ask customers to share their stories.
Social-Media-Inspired Video Marketing Trends in 2022
The rise of TikTok will accelerate the vertical video trend as Akash Iyer, Digital Marketing Manager at Data Feature pointed out. Akash believes that the move to vertical could actually make life easier for marketers. "[vertical video] means you don't have to optimize your video for every device, since vertical video can be used on desktop and mobile devices."
While you're creating vertical video, it might be a good idea to double-down on stories, says Olivia Tan, co-founder of CocoFax. "Ephemeral content increases the engagement rate by being available for viewing for a limited amount of time (24 hours). By publishing stories regularly, you can get your followers to be more aware of your updates, and more likely to watch your new content."
Influencers everywhere
While influencers have been around since the early days of soap operas, TikTok has ignited a new influencer craze. Now anyone can be an influencer as long as they have a few hundred followers.
Maggie Zhang, creative manager at Coffeeble expects the influencer boom to continue. "We expect more traditional celebrities to start endorsing products and establishing themselves as influencers. Tiktok is a great example of influencer marketing as it allows celebrities to easily create videos and post them online."
Shorts On in 2022
"With YouTube Shorts gaining steam, and platforms like TikTok and Instagram maintaining their dominance, marketers around the world should begin to focus on creating short-form video content to reach their target audience if they have not already," said Daniel James of Tubefluence.
Not only do short videos capture audience attention, they also may bring an extra advantage for marketers. Daniel said, "Advertising costs are still relatively low on platforms that prioritize short-form video content. So, developing a paid advertising strategy centered around this type of content could result in a higher ROI."
Sound Off for Social Video
"Believe it or not, silent video is a thing and it is a trend for 2022," said David Latimer, Head of Marketing at Petzyo. "Think about it – a lot of videos you watch online now are not with sound, and also, for me personally, I watch a lot of marketing videos on TikTok without sound. Makes a lot of sense for me."
Strong as the anecdotal evidence may be, the data is even stronger according to Alex Kus, CMO of Buddy. "I've seen a good bit of research putting videos watched without sound on platforms like Facebook at nearly 90% of total views," Alex said. "The sweet spot for most brands will be short-form content layering captions over video, with sound added for the rare few who will enable it."
Power Up Your Search Engine Optimization
Two of our experts pointed out a statistic from Forrester, which says that videos are 53 times more likely than other SEO tactics to earn first-page rankings. So making videos and including them on your pages is a smart tactic for search engine optimization.
Several mentioned the importance of using keyword optimized title tags and descriptions. Of course good thumbnail photos never go out of style.
Matt Weidle, Business Development Manager for BuyersGuide.org, explains how to use tags to maximize SEO. "You can better target your material to certain search queries if you label and separate it according to the subtopics you cover." With the new featured snippets function from Google, tagging and including descriptions with timestamps can make a huge difference to SEO.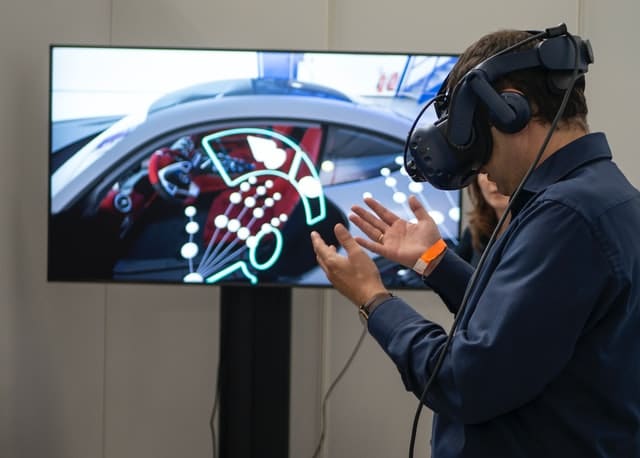 Video Technologies Likely to Grow in 2022
The continued development of technology is likely to impact video trends for 2022 and beyond. These include VR/AR, interactive, and shoppable video. We might also see more 360-degree videos that give users a more immersive view of products and locations.
Virtual Reality and Augmented Reality
Darshan Somashekar Founder and Chief Executive at Solitaired, "Our perception of what kinds of experiences can be virtual has shifted in the last year and a half, similar to our perception of live video, and customers are unlikely to want to forego the ease and accessibility that virtual options afford. While AR and VR will never completely replace the in-person experience, they are unquestionably here to stay as a crucial video marketing tool."
Interactive and Shoppable Video
"Although interactive content has been in the works for a while now, I predict that it will become more prominent in the upcoming year," said Home Grounds Videographer Steven Holms. He points to quizzes and polls that keep customers interacting with video ads.
Shoppable video takes this trend a step further. Cristian Stanciu of Veedyou calls it the "next hot marketing strategy in ecommerce" With shoppable video, marketers can add clickable "hotspots" to items displayed in a video. Customers can buy the product instantly. Amazon Live, Youtube, and Instagram have already adopted this technology in various ways. Don't be surprised if others follow suit.
What Video Marketing Trends for 2022 Mean for Marketers
Ultimately, you can keep doing more of what's already working. It's just that the way you think about video marketing may be different. Joshua Feinberg, CEO of SP Home Run explains: "In the past, a heavily-scripted and heavily-produced video would be created as the final step in an omnichannel marketing campaign. With live streams and podcasting now very much in the mainstream, it's a lot more common for the content creation process to start with a video shoot.
"And from there, the video content from the subject matter expert gets repurposed into other formats. Video content creation…is often now the first step in an omnichannel, integrated campaign."
So if you're still thinking of video as an optional extra or a small part of your marketing plan, it's time to think again. All signs point to 2022 as the year of video becomes the core of your marketing strategy.