In 2009, a production company called Common Craft made an explainer video for a young, relatively unknown startup: Dropbox. Shortly after the video was completed, this two minute and seventeen second explainer was placed onto the front page of Dropbox.com. For several years, this video remained front and center where, according to Dropbox, it was viewed about 30,000 times per day (and 25+ million times overall). During this time, Dropbox grew at an incredible rate; eventually reaching over 100 million users. Although Common Craft's explainer was of course not the sole reason for this staggering growth, it certainly played a role. So let's take a closer look at who made it, why it was so effective and what we can learn from Dropbox's runaway success.
First off: What does this famous video look like? 
Like this…
Second off: Can you remind me again who made it?
This video was produced by a small, Seattle-based firm called Common Craft, which is owned and operated by Lee and Sachi LeFever. They started making videos in 2007 and, since then, their work has helped introduce the world to Twitter, Google Docs and, of course, Dropbox.
There a lot of great explainers out there, so what makes this one so captivating? 
Well, like most great works of art: the whole is greater than the sum of its part. And that "whole," really, comes from the magic, vision and tone of Lee and Sachi. So in lieu of asking them to donate some of their whole-istic wizardry, let's instead highlight some of the parts that work really well:
1) A Unique Visual Style: The Dropbox explainer uses cut-out animation to tell the story of their company (and the services it can provide). This style is not only unusual and eye-grabbing, but by using iconic, less-detailed characters it makes them more relatable to a diverse audience.
2) A Great Set-Up and an Even Greater Metaphor: Not all explainer videos need to make use of metaphor, but they do all need to include some sort of "set up." This can come in many forms–a problem, a recurring situation, etc.–but before getting into the meat of your presentation, you need to provide some parameters for the ensuing content.
The Dropbox video does a great job of setting up these parameters but introducing a series of familiar situations (and cleverly does so without resorting to that old infomercial cliche: has this ever happened to you?!). Instead, we are greeted with a duo of relatable scenarios:
Forgetting your wallet
Misplacing your keys
Now, it should be noted, that neither of these scenarios have anything to actually do with Dropbox. But they do conjure a familiar feeling of disorganization, that through an extended metaphor (featuring the "magic pocket" below) demonstrate the number one thing that Dropbox does indeed provide: organization.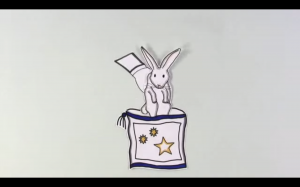 3) Short, but Sweet: Like a movie studio petrified by the notion of condensing a 90-minute film into a 90-second trailer, one would imagine that Dropbox must have been worried about everything that would have to be left out of a video this short. Additional Features! Lengthier descriptions!! More magic pockets!!! But to the credit of both Dropbox and Common Craft, they recognized this explainer for what it was: an introduction to a service. It's the beginning of what would hopefully become a long-term dialogue and relationship.
And that, really, is something that's too often forgotten with explainer videos. They are not meant to be an encyclopedia shrunk down to a short video. No, each must be created with a specific purpose in mind and work exclusively to that point. And that's something that this video does extremely well.
Okay, I understand what makes this a strong explainer. But tell me more about how this actually helped Dropbox generate business…
5+ years ago, few people had any idea who Drobox was. Not only that, but the concept of what they were doing/selling (cloud-based storage?!) wasn't easy to conceptualize. But with this video, that was the first thing visitors saw when landing on their generally sparse page, they were able to easily and efficiently convey how this service would be a benefit. So, once again, while it would be foolish to attribute Dropbox's success solely to an explainer video, it would be interesting to consider how successful they would have been without one.
And more specifically, the explainer video has been credited with increasing conversations by 10%. From a distance, that may not sound like a lot. But increasing your business–especially one based on a subscription model–solely with a 2-minute video is pretty darn impressive.
In addition to this video, what else did Dropbox do to help spread (and explain) the proverbial word? 
Initially, Dropbox started by using Google AdWords. This was effective in generating traffic but after when factoring in the cost of acquiring clients in this manner (around $300), they decided to shift strategies. Instead, they focused their efforts on a viral referral campaign. The crux of this strategy hinged on offering users additional storage space in exchange for recruited individuals who signed up for one of their invites. This resulted in a total of 2.8 million invitations being sent out over a 30-day period.
Awesome!
Yup.
Okay, well I know how Dropbox is doing these days (great),  but what is Common Craft– who made that original explainer– currently up to? 
Lee and Sachi LeFever have oriented Common Craft around the goal "of making videos and products that help educators look like rock stars." To learn more about what this means and glimpse a little more of their magic, go ahead and visit their website!
Contact us if you'd like to learn more about explainer video production and how it can help your business.