A company's brand never really stands still. You can try to define it with brand books and style sheets, but really it is living not just in your company assets like blog posts, videos, and slide decks, but also on social media, web forums, the press and ultimately, in the minds and actions of your employees, prospects and clients. You can shape it, but you can't really define it completely. And it's certainly not going to sit still for you.
One of the privileges of working at IdeaRocket is that we have had a chance to help shape the identity of dynamic, up-and-coming brands. IdeaRocket's long-standing partnership with Jornaya is one example of how we were able to do this.
When IdeaRocket was just getting started, I was approached by someone else who was just starting a new company: Ross Shanken. Fresh off a successful exit at TARGUSinfo, Ross was already a thought leader in the lead business.
What sort of business is that, you ask? In the internet today there are many websites that attract consumers who are ready to make a purchase or just looking for purchase information, and they collect their contact information. They then sell this information to vendors who might be able to meet these consumers' needs. Ideally, this would be a win-win-win. The consumer gets competing bids, the lead seller monetizes their web traffic, and the vendor gets a valuable lead.
Ross noticed that it didn't always work out that way. Some lead sellers would sell old leads, duplicated leads, even fake leads. And the lead buyers were never really certain about how many other hands their leads would be in.
Ross's solution was LeadiD. Each lead created was assigned a specific number which would identify it. Just like how you can send CarFax your car's VIN number and find out about its ownership and accident history, you could look up a lead's LeadiD and find out where and when it was born, and when it had been sold. This documentation made buyers more comfortable about buying leads, and it provided value to sellers too, who could now assure their customers of the quality of their wares.
When Ross described this market to me, it sounded a bit picaresque. So I thought carnival metaphor might engage audiences. Here's the first 11 seconds of the explainer we made for LeadiD nine years ago:
We thought it was wonderful when LeadiD started using the characters of the buyer and seller from our video as website graphics to represent their user categories. Our asset had managed to become part of the company's branding.
Flash-forward nine years. LeadiD still exists as a product, but the company has grown considerably and now calls itself Jornaya. Jornaya's service offerings are now quite a bit broader than just LeadiD. Its flagship solution is called Activate.
Activate serves the considered-purchase market, which includes industries like insurance, automobiles, real estate, mortgage and education. These are fields where consumers invest time to research their options because these purchases are important life choices. Activate is a service for marketers that alerts them when their customer contacts are in the market for their product, and it does so in a way that protects both the informational assets of the marketer and the privacy of the customer. But… why not let our video tell the story?
This was a very different video than the one we made years ago, and getting to this end result was a process of collaboration.
Jornaya's brand had changed considerably since those early days. It was a tech company, and it wanted to project a shinier, more modern identity for itself. The friendly, approachable cartoons we had used years ago just weren't representative of how the company wanted to project itself today.
Since Jornaya was about the customer journey, our first notions were to depict this as a board game.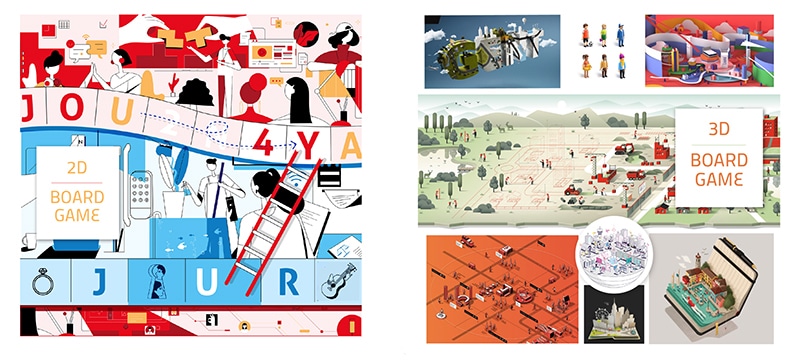 However, once we started collaborating with the Jornaya team on the narration it became obvious that we needed to tell the story from the marketer's point of view, so we could depict their pain and frustration at not being able to reach their customers at a point when they were ready to receive their message. And we started to consider what it might look like to let spheres represent the customers.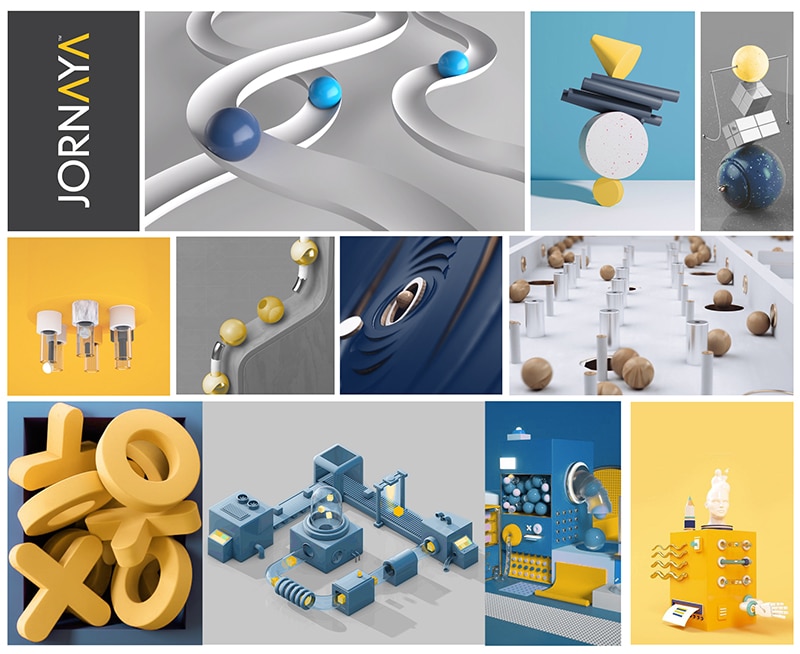 To their credit, the marketing team at Jornaya – Matt Lohman and Melissa Buchanan – pushed us to bring more humanity to this look. The idea of using emoticon faces was born. The creative team was excited by this notion and decided to differentiate the marketer from the customers by giving him (or her?) glasses and a placement atop a control tower. Marketing became a game of whack-a-mole where the marketers were frustrated players and customers were mocking moles.
"Overwhelmingly, across the board, people love the video," reports Matt Lohman. "The end result exceeded what we had hoped for," says Melissa Buchanan. And, as it did years ago, our characters are making their way into Jornaya's brand. Here is a recent  ad we saw from Jornaya.