Can B2B marketers use Facebook video? 
As one of the largest social media platforms on the planet, Facebook is an attractive option for marketers looking to connect with customers, with video as one of the most effective mediums. 
According to the Content Marketing Institute, Facebook, Twitter and LinkedIn are the top three social channels leveraged by B2B marketers. But when it comes to Facebook promotion, B2B marketers are faced with different challenges than their B2C peers.
"For Instagram and Facebook video, B2B companies can really feel like they're at a disadvantage because content directed to businesses isn't going to likely "go viral" or put up a ton of vanity metrics," Doug Thomas, Magniventris, said. 
It's really just the nature of the B2B beast. Often, the B2B sales cycle is longer, with different audiences in different buying stages at all times. Maintaining loyalty with current clients is a priority too, with videos that focus on how to make the most out of your product or service. And sometimes, the product or service you're selling just isn't as glamorous as a shiny B2C product. 
But video marketing success isn't off the table for B2B marketers. In fact, there's plenty of ways to break into Facebook in a big way. We asked some marketing experts to share their tips: 
Tap Into Targeting
For Alistair Dodds, Ever Increasing Circles, leveraging Facebook and Instagram's extensive set of targeting tools helps ensure B2B videos are delivered to the right audiences at the right time. 
"Facebook and Instagram's ad targeting options make them ideal platforms for engaging video campaigns," Dodds said. "We use them extensively for sequential retargeting, where our prospects see new explainer video content on an almost daily basis. It helps to build the brand story and lead the prospect through our sales funnel." 
Understanding your audience is key to avoid disconnects that could confuse or turn off potential buyers. Thomas says B2B marketers should build a clear video strategy that aligns with the buyer's journey before diving into promotion. 
"Many B2B companies provide continuing education for their clients through their videos, but try to use those videos to sell to new prospects," Thomas said. "This disconnect means they won't see increased sales because their audience won't be in the right stage to be able to fully engage with the content."
In order to determine success and refine strategy, Dodds recommends split testing (also known as A/B testing) and focusing on Facebook's video engagement metrics to help determine what types of content works best for different audiences. 
Related: 11 Simple Ways To Optimize Facebook Video Ads
"One key element is to retarget prospects based on video view engagement. Perhaps they have not signed up for your lead magnet, but watched over 50 percent of the initial video ad," Dodds said. In this case, your viewer shows interest in your product or service, but may not be quite ready to sign up for your offer just yet.
"As such, they are worth pursuing with brand story video ads in order to build familiarity," Dodds said.  
What Types Of B2B Videos Work Best On Facebook?

Once you have your audience locked down, it's time to focus on producing the right content.
For Olga Mykhoparkina, CMO, Chanty, putting your customers under the spotlight through video testimonials is a powerful way to validate your product or service. 
"A video testimonial means a customer loved your product/service so much that they took time off their day to create a dedicated video just for you. That speaks volumes about your company and it's an incredibly powerful marketing tool. "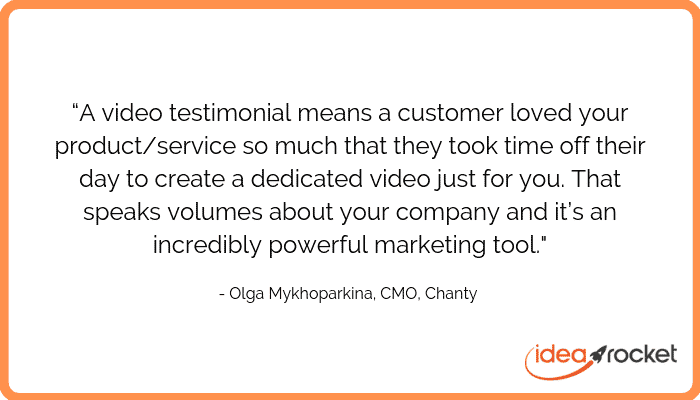 Research from software review site G2 shows that more than 90 percent of B2B buyers are more likely to make a purchase after reading an online review. Whether it's an interview, a case study, or a live fireside chat on social media, videos that feature your customers can be a more authentic and engaging way to tell your product story and build trust with potential new customers. Live video streaming on Facebook or Instagram stories has other benefits for B2B companies too, says Chris Morris, founder, Shoo Social Media. 
"Live video streaming is perfect for those B2B companies that run events," Shoo said. "You can really engage and draw in your audience, letting them know what happens behind the scenes and trigger FOMO."
Showcase Your Brand
Whether it's a video explainer, a testimonial, or a product video, it's important that your content stays true to your brand. For Morgan Lathaen, marketing/brand coordinator, Thumbprint, being authentic is important for B2B companies to stand out in the crowd — especially on Facebook. 
"Embrace video in your own way, and don't be scared to get creative, even silly!" Lathaen said. "B2B marketers often think their videos have to be professional and to the point. Have fun with it and showcase your brand's personality. You want to make something that will keep your audience coming back for more."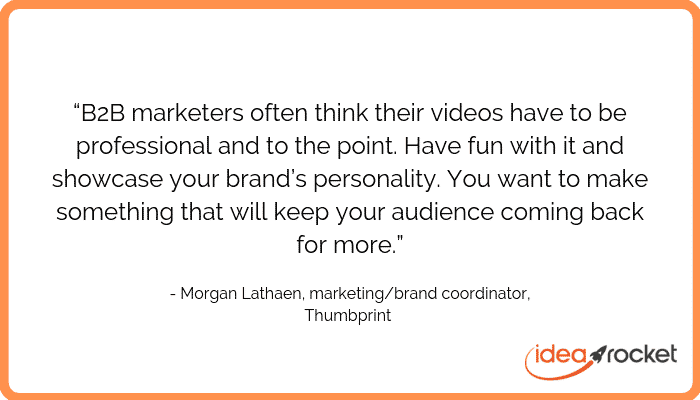 Showcasing your company culture in an authentic way can also help build trust with consumers or attract new talent. 
 "As a consumer,  I will subconsciously look to see a team dynamic because after all, I will be working with a team," Vicky Llerena, branding/marketing strategist, Social Vibes Media, said. "Make sure to humanize your brand with team pictures, team videos, bloopers, behind the scenes, and content that showcases faces and not logos."
Facebook Video For B2b Marketing
So, can B2B marketers succeed on Facebook? 
Absolutely. 
With the right targeting, content, and strategy, B2B marketers are well positioned to connect with audiences in a big way. 
Learn how IdeaRocket can help take your video marketing take off on social media. Get in touch here.