The launch of Facebook Live streaming back in 2015 heralded the beginning of a new era in communication for people and businesses. While other social media platforms have since jumped on the bandwagon, Facebook was the first major platform to let you speak to your customers live through video with Facebook Live Stream.
As the biggest social media platform in the world, Facebook has about 1.93 billion daily active users. That's nearly a quarter of the world's population. If you're marketing directly to consumers, you'll almost certainly find an audience on Facebook.
But even B2B marketers can engage customers with Facebook live stream strategies. Remember, businesses are made up of people. The decision makers in those businesses want to be informed and entertained. They want to connect with you and your brand before they make a big business decision. And live video is a powerful way to do that.
Facebook Live Stream Strategies For Businesses
While a professionally produced video is more polished and more versatile, Facebook Live streams have their place in your video marketing plan. Here are eight strategies you can use to capture audience interest and engage customers using Facebook Live.
1. Look Behind The Scenes
People love getting a look behind the scenes. It makes them feel special, like they're part of the in crowd. And it appeals to their sense of curiosity. Use Facebook lives to show customers how business is really done. You could show off your manufacturing process, give them a tour of your offices, or let them see what your team does together for fun. Every glimpse behind the curtain builds trust and invites your customer to be a part of your business.
2. Embrace Your Authenticity
Facebook Live stream videos aren't perfect. The camera might shake because it's being carried by hand. Presenters may flub lines. Unexpected sounds or events could disrupt a planned video. But on live streams, people don't mind imperfection. When you're willing to embrace authenticity on camera, you remind customers that your business is full of real people.
3. Share the Excitement and Create Buzz
Presenting raw and unedited videos might seem dangerous. Who knows what will happen next? That's part of the fun. You can capture the real excitement and buzz around a new product launch or announcement. LUS brands did a Facebook Live to announce their new product and answer questions from customers.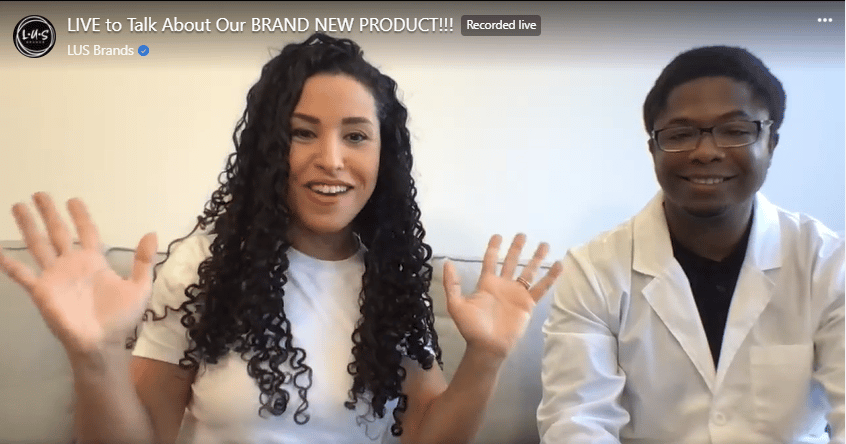 4. Promote Community Spirit
Facebook Live is a great way to show commitment to your community. While it may feel like showing off to write a wordy press release about your company's participation at local events and fundraisers, it can be fun to share the experience in the moment. When you live stream an event you bring viewers along on the journey. As a result, they feel more connected to your business and begin to view you as part of the community.
5. Jump On Breaking News
A live broadcast can highlight your company's knowledge while offering helpful information to the audience. Recurring talk show-like sessions or "breaking news" videos can cover topics important to customers while they're fresh. You may not have time to plan, produce, and release a formal video about it before the buzz dies down. But a Facebook live stream can happen now. Like any great power, you should use this one sparingly. Jumping on every passing fad can make your business feel inauthentic, the ultimate sin of live streaming. So choose your topics carefully and make sure you have something valuable to add to the conversation.
Johnson & Johnson did a series of Facebook Lives to address questions around the pandemic as they worked on developing a vaccine.
6. Interact With Viewers
Facebook Live allows viewers to ask questions or leave comments during the live stream. As the presenter, you can see and respond to these comments or questions in real time, creating a truly interactive experience for viewers. That interaction translates to better engagement. Juniper Networks saw a 500% increase in link clicks year over year and a 200-300% increase in engagements after launching their Facebook Live program.
During and after the stream, viewers can also share your video on their feeds.  A study by quintly found that native Facebook videos (including Live) drove an average 1,055% higher share rate than YouTube videos.
7. Use Facebook Live Stream as a Testing Ground
Facebook Live offers real-time video metrics, letting you test specific pieces of content on the fly. After your broadcast is over, you can view engagement metrics including likes, reactions, mentions, comments and shares. You can even see when people left comments or clicked a reaction button. That means you can constantly improve your videos, doing more of what viewers like. You might take those topics that evoked the biggest response and produce more formal, planned videos that delve deeper.
8. Edit and Reuse Facebook Live Streams
When the broadcast has finished, the video will be saved to your Facebook profile. You can write a title and description, choose or upload a perfect thumbnail image, add video captions, and make other edits. So although the process may seem like a fleeting moment in time, your video can live on forever. You might use pieces of a Facebook live stream to make gifs, edit into shorter, punchier videos, or share on other platforms.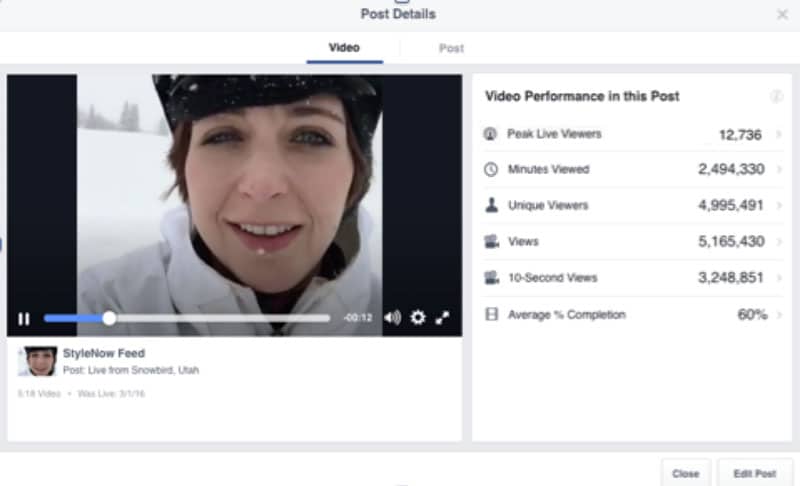 How Facebook Live Fits Into Your Business Video Strategy
Facebook Lives are a great place to create buzz, test out new ideas, and increase engagement. They're also informal and a bit unpredictable. So you shouldn't rely on Facebook Live streams alone. Your video strategy for business should include a mix of live and recorded content to connect with customers wherever they happen to be. Live videos might capture their attention, but recorded content is shorter, more focused, and available on-demand. Plus you can use it to make facebook video ads.
For help creating quality pre-recorded videos that fit your video content strategy, reach out to the video experts at IdeaRocket.