If there's one thing we all learned from Ebenezer Scrooge, it's that it's never too late to have the perfect Christmas, especially if you love Christmas comic books. After 60 years of waiting, the posthumous release of Harvey Kurtzman's Marley's Ghost, a graphic-novel adaptation of Charles Dickens' A Christmas Carol, is finally here. And it's fantastic.
In case you're unfamiliar, Kurtzman is without question one of the most influential and inspiring comic and graphic novelists of all time. The prestigious Harvey Awards are named after him for a reason. Kurtzman shaped the fledgling comic industry with his incredible layouts and attention to detail, elevating "comics" to the critical success they enjoy today. That's why this release is so exciting.
Originally begun in 1954 as an early example of a graphic novel, Kurtzman's ambitious retelling of the Christmas classic is finally available thanks to Eisner award-winning writers, Josh O'Neill and Shannon Wheeler, and illustrator (and IdeaRocket animation alum) Gideon Kendall. The artwork and story honor and expand on Kurtzman's original notes and dozens of panels and thumbnails created by Kurtzman himself.
Below is an interview with Marley's Ghost illustrator, Gideon Kendall. He shares insights in the graphic novel production process, a few of his favorite things about adapting a classic work of fiction, and what it's like to fill the shoes of a legend. Kick 2018 off with Dickens' timeless story of hope and redemption, and enjoy the enduring influence of a true master with this latest addition to Kurtzman's legacy.
IdeaRocket: How did you get involved with Marley's Ghost?
Gideon Kendall: A few years ago, soon after I started making my own comics, I tabled at a great indie comics fest in Philly called Locust Moon Fest. While I was there I met Josh O'Neill, one of the organizers of the festival. Over the next couple years we worked on a few little projects together. We really enjoyed collaborating, and when Denis Kitchen told him about the Marley project, Josh recommended me for it.
IR: Do you prefer the original A Christmas Carol or one of the many retellings, and are you a big "Christmas guy?"
Gideon Kendall: Haha, no not a Christmas guy at all. I'm Jewish by heritage and a rabid atheist by choice. Dickens' story has much to teach, of course, and most of it has nothing to do with Christmas in the religious sense. Over the course of the project I read the original text many times as Josh, Shannon and I strove to adapt it for graphic novel form, and for visual reference I watched the various film versions over and over.
I guess my favorite film version is the 1970 version. As far as musicals go, its pretty great, and they really took some fun liberties with the story which helped give us permission to do the same.
IR: For people that haven't read it yet: How does Marley's Ghost differ from the original?
Gideon Kendall: One of the mysteries of the project is that no one really knows why Kurtzman decided to call it Marley's Ghost and not A Christmas Carol. Josh and I think it might be that, as a comic artist who cut his teeth on horror comics, Harvey intended to emphasize the spooky and humorous "ghost story" aspect of Xmas Carol over perhaps the morality tale or Victorian melodrama or whatever other aspects.
The one part he did color finishes for is indeed the appearance of Marley's Ghost, and from there his layouts fizzle out into just very loose thumbnails and then nothing…so maybe it was just the part he was most interested in? We'll never know. Some people have been confused or disappointed that our version isn't radically different from the original, although we did some things, particularly towards the end, that I think are pretty cool and different and make the story stronger.
IR: How long was the production process from draft to finished Christmas comic?
Gideon Kendall: Josh and I spent a lot of time reading and notating the original Dickens text and analyzing the sketches that Kurtzman left behind. We broke the text up into a rough outline with page breaks, and then Josh wrote it as a comics script. Then Shannon stepped in and helped us to streamline and clarify.
From there I took the script and did thumbnails of the pages that Kurtzman didn't do. We got some feedback at that stage from Denis and others, Josh made a revised script and went ahead and penciled all the pages, including Kurtzman's, adapting them into my own style while for the most part retaining his layouts. Then another mercifully light round of comments from those in charge, and I went ahead with inkling, coloring and lettering.
IR: How did Kurtzman influence your adaptation of this story?
Gideon Kendall: The pages he did served as a springboard for the whole project. His sense of storytelling was so original—along with others like Eisner and Kirby—and really set the standard for comic storytelling going forward. He was also famously demanding of his artists and expected them to follow his layouts carefully. I did my best to do so on the pages that he laid out, but since he only did less than half of the book, at a certain point I had to strike out on my own. It was kind of the perfect balance.
Kurtzman also hired Jack Davis to do a sample page for this project, and as a huge Davis fan I kind of ran with something more along those lines than Kurtzman's somewhat minimal and fluid style, which would be impossible for me to imitate anyway.
IR: What are the biggest differences between illustrating graphic novels and designing characters for animated explainer videos?
Gideon Kendall: The images in a video flash by at a rate decided by the animator. In a comic the reader can linger on a panel for as long as they want, depending on factors like the panel size, how much detail there is, the amount of text, etc. One of the really great things about comics is the elasticity of time. Each panel moment is frozen and time only really passes between panels.
Explainer videos, whiteboard videos in particular, are designed to look as if someone is quickly and informally sketching as they speak for a simpler more "cartoony" look. There are of course many cartoonists who work in a similar way, but my tendency is to want to make every panel of a comic almost like a stand-alone illustration so that if the reader chooses to, they can linger on each image and have lots to look at. Of course, the page should also still work as a whole and the storytelling should flow.
IR: Unfair question, but…what's your favorite page?
Gideon Kendall: There are many, but I'm really happy with this one.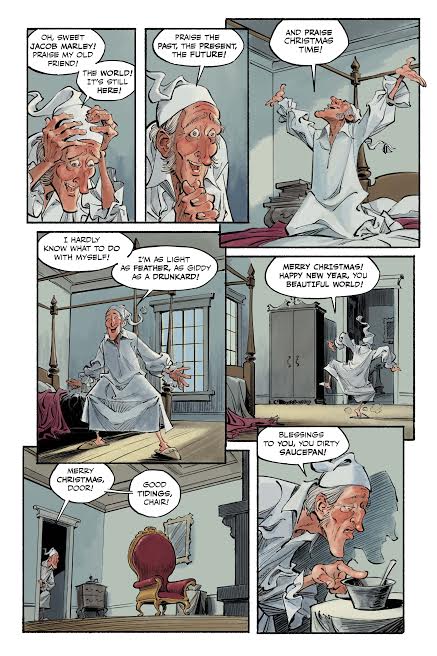 By this point in the story I'd really settled into a groove of drawing Scrooge and after so many pages of him being all crabby and hunched over it was fun to draw him open and joyous. I think this page, with its acting and choreography, has something in common with the kind of feel I like to go for with my whiteboard characters. I'm also very proud of the one that was reviewed at Vulture: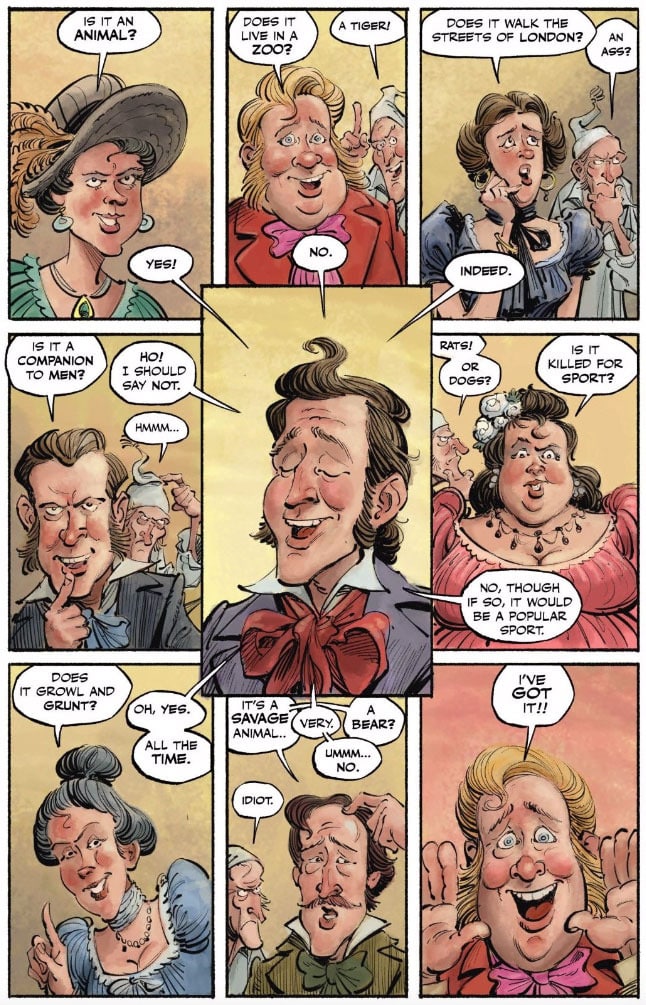 IR: What other classic work would you like to get your hands on for a graphic novel?
Gideon Kendall: I'm up for anything not set in victorian London. I'm done drawing top hats for a good long time! 20,000 Leagues Under the Sea would be awesome. 1984, maybe? That would certainly be apropos for these times we're in.
IR: What did you wish for Christmas this year?
Gideon Kendall: For our leaders to actually learn the same lessons that Scrooge learned…but that ain't gonna happen. So instead I wished for a waffle iron.
IR: Any advice for new illustrators or graphic novelists looking to adapt a classic?
Gideon Kendall: Reference material! Immerse yourself in reference material before you start drawing. In addition to the movies, I also spent a lot of time looking at Dore's engravings of Victorian London, as well as the art of Daumier and Kathe Kollwitz, among others. Also, if you can take the time and afford the expense, getting a costume and hiring a model for your main character can save a lot of time down the road and make for more convincing artwork.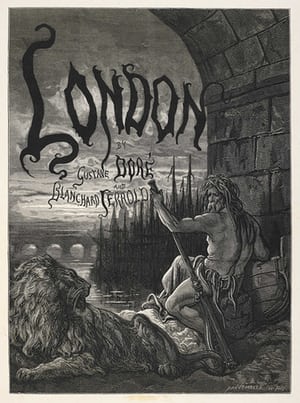 I convinced a good friend of mine to be my model for Scrooge. He didn't look like Scrooge, but had a similar body type to what I imagined: tall, thin and bony. I tried to find an outfit that would fit him, but strangely there are no one sells vintage Victorian nightgowns for guys who are 6'4". I had a seamstress make one and then I took hundreds of pics of him in various poses so that I could make the drawings more lifelike and convincing. It was totally worth it.
IdeaRocket: Where can people pick up this Christmas comic, and where can they see more of your work?
Gideon Kendall: For a limited time, Marley's Ghost is only $2.99 at Amazon and ComiXology. Comixology also has the first few issues of my very deranged and grotesque Sci-Fi comic series WHATZIT for sale. I have two other graphic novels debuting in the near future. One of them, a fantasy adventure story called The Underdream, is a collaboration with Josh. The other is a super fun all-ages giant monsters and robots thing written by Gabe Soria.
If you prefer old fashioned printed comic books, go to my web store for comics, prints, children's books, art books, T-shirts and other stuff. You can also find me on Facebook or follow me on Instagram @gideonkendall and twitter.
Download our free eBook to learn more about how to make animated video work for you.