Mobile video accounts for more than 75% of worldwide video views. Many of your potential leads likely encountered your brand for the very first time on their phone—probably while doing something else. Mobile viewership of everything from micro-content to long-form documentaries is on the rise, and even "paired viewing" (watching video on desktop and mobile devices simultaneously) has become the norm. 
It's never been more important to create mobile video and to upgrade your existing video for mobile viewing on Facebook, Instagram, Snapchat and YouTube. Before jumping into the 11 easy ways to create better mobile video, let's look at why mobile video is more important than ever before.
Experts have been proclaiming the rise of mobile video for years. The most compelling data comes from the world's largest online video provider: YouTube. YouTube has revealed that more than 70% of watch time happens on mobile devices. That's huge, especially considering YouTube has an audience of more than 2 billion people. 
The internet has gone mobile. Are your videos ready?
Mobile Video for B2B
Mobile video is a fundamental part of the B2B buying process. In the 2016, Think With Google study "How Video and Mobile are Changing the B2B Buying Process," director Richard Robinson spelled out the importance of mobile video:
"In the B2B buying process, we're seeing a huge increase in the number of people using video—going from 29% of B2B buyers only two years ago to 70% of B2B buyers today."
In short, decision makers are watching video and they're watching it on mobile devices.
Robinson says that "Video, alongside mobile, has the strongest impact on increasing consideration rates during the B2B buying process."
So mobile video is important whether you're trying to reach individual consumers or buyers for Fortune 500 companies. With this massive audience watching, you want to make sure your mobile videos are as good as they can be. Here are 11 best practices to help you optimize mobile video.
1. Keep it Short: 120 Seconds or Less
When it comes to optimal video length before, shorter is better. While each platform has its own ideal length, less than two minutes is a solid guideline.
Shorter videos achieve higher engagement rates. That's especially true for mobile video. 
Most mobile viewers just aren't willing to commit to a long video. Aim for brevity and focus. Committing to a tight time frame will help you cut out the unnecessary elements and make videos more engaging.
2. Narrow Your Focus
If your message is too complex to explain in a sentence, it isn't ready for mobile audiences. Find the one narrative or single product feature that you want to highlight and maintain laser tight focus on that message. Get rid of extra content, or split it into multiple videos that each highlight one facet of a problem or feature. The bonus to this approach is that people won't get bored seeing the same video over and over. You'll have a steady stream of fresh content to share.
Your mobile viewers will watch the videos that apply to them and thank you for the sleek, digestible videos. Remember, mobile viewers don't skip past boring or irrelevant sections the way that desktop users do—they simply move on to a different video that better answers their questions.
3. Create Better Video Thumbnails
Remember, mobile video optimization starts before the video even plays. Too often companies spend massive production budgets producing a fantastic animated video only to drop the ball with a boring, random video thumbnail chosen by a YouTube algorithm. People judge a video by its cover, and if your video looks boring, no one is going to waste time watching. 
Scrub through your video for an exciting moment, grab that frame, and use it to create a video thumbnail. Then hook viewers by adding a bold text overlay announcing what your video is about. For animated videos, you can ask your animator to create a custom thumbnail that projects a more professional image than a screen shot.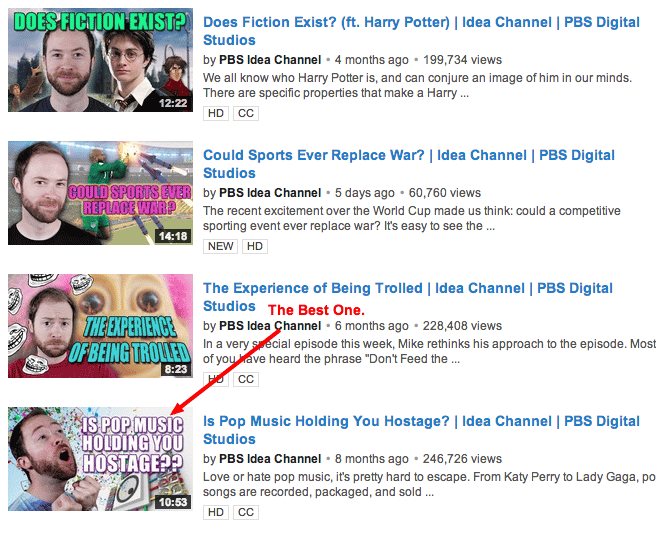 4. Hook Viewers in the First 3 Seconds
You have about three seconds to grab viewers' attention. Include brand or product imagery in the first few seconds and skip splash screens to get right to the point.
The best video hooks combine visually interesting characters with rich imagery and a dramatic starting point. Grab mobile viewers right away with something exciting and keep them watching until they walk face first into a pole.
This ad from Amazon immediately sets a scene that many can relate to—waiting for your significant other to finally be ready to leave the house.
Mobile video is exactly that—mobile—which means your video better get moving right out of the gate.
5. Optimize Mobile Video for Audio Independence
The right soundtrack or quality voiceover can add personality and nuance to a product video or explainer video. But, many mobile viewers watch with the sound off. According to a Verizon media study 69% of people watch videos without sound in public places, and 25% stay on mute even in private places.
If your video relies on voiceover to communicate your message, you're missing out on potential leads. Optimize mobile video to be audio independent with clear visuals that communicate the message without sound. 
Captions and subtitles can help, but the most effective tool is a visually engaging video.
6. Add Some Text
Your video can incorporate words into the animated images and visual content. Use on-screen text to underscore key points and drive home your message. In this screenshot from a video for Know Better Bread our animators used onscreen text to make their point.
If you watch the video with the sound off, you still get the impact of the timeline. With only a few seconds to work with, on-screen text is a great way to increase information density. You may have heard that "a picture is worth a thousand words." If that's true, your 60-second mobile video is worth 1.8 million words. Don't waste a single frame.
7. Establish Visual Hierarchy
Mobile video is built on a simple hierarchy: visual cues outweigh audio messaging every single time. To achieve the greatest impact with your text, establish a visual hierarchy.
The Know Better Bread video packs a lot of information into each frame. To counteract visual overload we use bright primary colors to highlight the most important text. You can do the same through thoughtful use of text size and color. 
Stick to large, bold text that stands out from the color and content of your video. If you're concerned your text won't be legible, use white text and outline it with a thin black border. It will be visible against any background.
8. Use the Right Aspect Ratios

The default dimensions of mobile video—or aspect ratios—are different from a desktop. Most smartphone viewers aren't necessarily going to view your video at full size. Plus, many people prefer vertical video on mobile devices. They don't want to rotate their phone to watch a video, so make sure your video fits the aspect ratio of the platform. Check our vertical video guide for ways to optimize mobile video aspect ratios on YouTube, Snapchat, Facebook, and Instagram.
9. Use Quick Cuts to Keep Things Interesting
Holding on one steady shot will bore viewers quickly, and boredom equals bounces. Keep the camera on the move to tell your story with quick cuts that frame and reframe the subject in new and compelling ways. Rapid cuts and interesting transitions accelerate the storytelling of a video
This animated explainer video for Scandis is constantly on the move. Every new beat has a new "setting" and a new story to tell.
The rapid dynamic pace gives the animation a sense of purpose while also clearly separating selling points in the viewer's mind. It's a powerful combination driven by purposeful transitions and cuts.
10. Choose Unexpected Angles
If you only take one thing away from reading this blog post let it be this: mobile videos cannot be boring. 
Animation lets you zoom to the top of a skyscraper, dive into your computer screen, or even jump into a child's drawing. Use unexpected perspectives and innovative story angles to catch and keep attention.
In this animated explainer video for The City of Santa Monica City Attorney's Fair Housing project, we "zoomed" into a child's drawing to explain complicated housing regulations. 
That's a lot more interesting than someone in an office explaining your housing rights, and in the end the engagement factor is essential to getting the important information out there. Have fun and your viewers will too!
11. Ask for What You Want
Once you manage to engage mobile viewers, your next goal is converting them. You can increase conversions with a simple call-to-action that's easy to follow-through with. For help setting one up, check out our video CTA guide.
Keep it simple. Mobile video should aim to produce a single, measurable action. Every click means a better target audience for future campaigns.
Provide a path to conversion (shares, learn more, sign up, or buy), and track what works.
Mobile Video: The Future is Now
Mobile video is already making an impact on decision makers from casual browsers to B2B C-suite buyers. Cisco predicts that by 2022, mobile video will make up 82% of internet traffic. Embrace the future by optimizing mobile video.
Download our free eBook to learn more about how to succeed with mobile video.