Online video is one of the most versatile sales and marketing tools in your arsenal. You can use an explainer video as a tool to build brand awareness, as a pitching resource for your sales team, as a way to increase clicks to your company email, or even for live events and conventions. However, the number one reason to make an animated explainer video is of course for your company website.
The right explainer video can launch your startup from obscurity to stardom in under 60 seconds, but don't think that you can just slap your video on your homepage and call it a day. There are different types of explainer videos for all kinds of marketing goals, and each goal needs a different kind of landing page. Luckily, thanks to sites like WordPress and Squarespace, you can make a landing page for each one of these kinds of videos.
From About Me pages to time sensitive campaigns, landing page video is the customizable (highly effective) face of online video. Here are 5 Interesting Landing Page Videos (and why they work).
Best Landing Page Video: About Me Video
Everyone loves a good About Me page. It's a chance to (finally) talk about yourself and share a bit of what makes you so awesome at what you do, right? Wrong. When it comes to About pages, lifestyle blogger, Christina Nicholson from Christina All Day says it best:
"The number one reason people are checking out your about me page is to see if you can help them."
People don't care about where you went to school (unless they're applying there), or what your favorite color is. They just want to know how you can help them with whatever problem brought them to your site. Your About Me page is a chance to quickly qualify yourself, so why not do that in the fastest most effective way possible—with a video.
This video from the About Page of photographer Sue Bryce isn't even about her, but hot dang is it perfect.
This video is perfect way to introduce not only exactly what Bryce does best—Mother/Daughter photoshoots—it shows you the value of that service. Getting mothers comfortable enough to come out from behind the camera to pose with their daughters is a powerful message, and the way Bryce communicates that journey with this video shows her expertise so much more than a typical "About Me" section ever could.
She mentions briefly that she's been photographing women with their children for 25 years, but mostly she shows you what they looks like, and why now is the time for you to take pictures with your daughter. It's a powerful narrative, and an master class in using explainer video on an About Me landing page.
Best Landing Page Video: How-To Video
Most people are visual learners. If your product solves a complicated problem, or you have a quick easy fix that adds value to your target audience,
"Videos are an especially compelling way to learn how to do something online because, well, the video shows you exactly how to do it," argues Sophia Bernazzani from HubSpot. And she's not alone. According to Animoto, 4X as many customers would rather watch a video about a product, than read about it which means if you don't make an explainer video that shows your new [software solution, kitchen gizmo, accounting tool, shoelaces] in action, one of your competitors will.
Adobe Creative Cloud is the name in graphic design (heck, we use it), yet even though they're on the top of the heap in the design space they still create videos that help new designers create interesting work using the Creative Cloud suite of tools. And more importantly, they host those videos on dedicated tutorial landing pages to get your to their site, increase their SEO value and SERP results, and drive home the value of their premium product.
This GIF creation tutorial teaches viewers how to make an animated GIF with Photoshop in under 60 seconds. That's instant value in a clear, repeatable tutorial that people can watch, refer to, and share. This video has already racked up over a quarter of a million views on YouTube since it's release in March 2017, and it'll likely get double that over the course of its online life. That's a lot of people buying and Photoshop…
Best Landing Page Video: Individual Product Features
Sometimes your product or service is too complicated for one 60 second explainer video to do it justice. We get it. When your video needs grow past the boundaries of a single video, it's time for your video to splinter into several short helpful videos that show existing users (and potential users) exactly how to use your groundbreaking product or service (and why they should use it if they're not already a paying customer).
Asana is a collaborative project management platform with loads of cool features, but the functionality can actually be pretty overwhelming, especially if you're new to the site. Luckily Asana has embraced the power of dedicated landing page video for all their features.
This overview functions like a typical explainer video, showing the features and strengths of the platform, but it's also a great primer for actually using the platform. You can see (through animated motion graphics and screenshots) how the product will actually look and feel. This video lets you picture using the product while it explains it, which is a fantastic way to hook interested prospects.
Asana features this animated explainer video as a welcome/episode 1 on their "Quick Start" landing page for new and interested users. It's insanely effective, but it's far from the only video in their arsenal.
Asana mixes live action how to videos with screen capture and animated explainer videos for a suite of dozens of short, helpful videos that show you how to use Asana for any project, and more importantly all the ways you can save time once you embrace the streamlined functionality of the platform.
Landing Page Video: Seasonal Campaigns
Landing pages are great for promoting seasonal or temporary campaigns. You can target a specific keyword strategy, create an explainer video for your time-sensitive product, and drive traffic to the site with simple CTAs that increase conversions. What's even better is that single-use seasonal landing pages provide excellent metrics for tracking the success of your campaign.
We worked on a seasonal campaign earlier this year with the NYCFC when they launched their new 2017 home jersey with a live action and animated video. The result is a high energy video aimed at getting fans hyped for the coming season (and the new jersey).
Seasonal landing pages thrive with video. It communicates quickly and drives conversion rates when time is of the essence.
Landing Page Video: Education
Landing page video is great at focusing on a single topic. Case in point: the whiteboard animation we created for Novo Nordisk to explain the pathophysiology of diabetes. This specific (and complicated) topic demands its own separate landing page, especially when the objective is educating healthcare professionals on this specific topic.
Creating standalone landing pages with rich topical explainer videos is a great way to communicate large amounts of information—specifically when it comes to dense topics. But don't take our word for it; just look at the empire that RSA style whiteboard animation and TedEd animated shorts have built with the educational power of animated video.
Landing Page Video Best Practices
Landing page video can increase conversions by 80%, but only if you do it right. Here are a few tips and best practices to create a clean, streamlined landing page for your video that will drive conversions and keep your business moving in the right direction.
Design the Landing Page First
Create the url, the header, and the content for your landing page before you take the (considerable) time to create an explainer video for that topic. Tighten up your message and your aesthetic—the colors, fonts, and feel of the page—then let that look and tone guide your explainer video.
You can always change it if your video takes on a life of its own, but it's nice to have an existing landing page to keep you grounded on a specific message, objective, and CTA while making a video. Plus, if you already have the landing page (and url) designed, you can give the CTA in the video when you make it instead of adding that as an afterthought later.
Keep it Above the Fold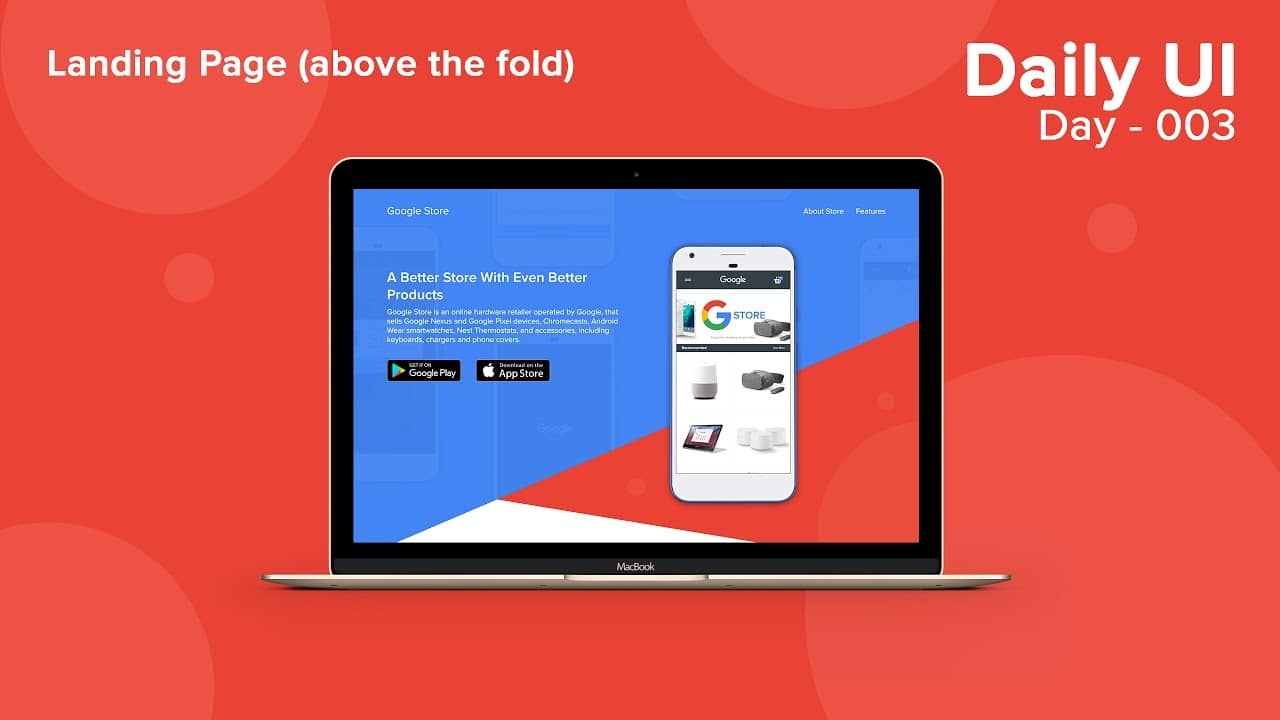 "Above the fold" is a design term that basically means when something is visible on your computer screen before you scroll. There's no point making a landing page video if you bury it beneath paragraphs of text. People clicked your link to get a quick look at whatever you're selling, so show it to them. You landing page video is the both the welcome and the closer for your product or event.
Keep people focused on your video by making it the only thing on the page. The hierarchy is real.
Keep it Short and Sweet
Nothing bogs a landing page video down like a long-winded message. "Lack of clarity can destroy your conversions, since most people are prone to not make a decision if given too many options," points out Eric Hinson from Kissmetrics.
This landing page video is not about your company or product as a whole. Focus on one thing—one single thing—that your viewers want to see or learn or do, and make the video about that. Keep your video under a minute if you can, and certainly under two minutes. Anything longer than that is not a landing page video.
CTA, CTA, CTA
Explainer videos are great at increasing conversions for a lot of reasons, but the ability to add a clear, simple CTA is probably video's strongest feature. Landing page videos are like explainer videos dialed up to 11. Your landing page video will act as the funnel for your product or event, even when it's not on your page. People will link to this page, you'll share the video on YouTube and social media, and when people do finally make it to your landing page, they'll watch the video again (that's just how it works).
End your video with a strong CTA that asks viewers to do the one thing on your landing page. Make it about signing up, downloading, registering, buying, or learning more. Tell people what you want them to do in your video and they'll be a lot more likely to do it. It's crazy, but it's true.
Once you have a landing page video you are happy with, it's time to set up your landing page. Various tools are available today to make building a landing page or website easier than ever. Bookmark Website Builder, for example, is a website builder powered by Artificial Intelligence which builds personalized websites and landing pages that fit your specific needs.
Best Landing Page Video
Creating stand alone landing page videos for your unique products or time sensitive services is a great way to track and increase conversions through targeted CTAs and focused content. People appreciate the value of videos dedicated to a single goal, and honestly, they're easier to make and more effective in the long run than general purpose video. Take your video marketing by the horns and create your own landing page video today.
To find out more about you can succeed with animated video, download our free eBook today.