You've created a high-quality video and posted it to YouTube. You hope it's catching the attention of potential customers and driving them to your site. Ideally it will increase conversions. At very least, you want it to help you build a stronger connection with your customers. But how do you tell if any of this is happening? The answer lies in your YouTube Video Metrics.
YouTube tracks all kinds of information about your video performance. Understanding which metrics matter and what they mean, can help you measure progress toward your marketing goals.
A word of caution: Unless you're reporting breaking news, the success of your video comes from the long-tail. So don't jump to conclusions based on a few hours or even a few days of data. You may not get a huge number of viewers on day one, but views and engagement add up over time. Make a few videos, give viewers time to discover them, then draw informed conclusions based on weeks or months of data.
Where to find your YouTube Video Metrics
The good news is you don't need any extra software to track your YouTube Video Metrics. YouTube collects information about your videos and shares them with you on your channel dashboard. To find this information follow these steps:
How to see Channel Analytics on YouTube
1. Sign-in to your YouTube Account
2. Click the round profile image in the upper right, this will open a menu
3. Select YouTube Studio from the drop-down
4. Find and click Analytics in the menu on the right
You've found your channel analytics screen. From here, you can see an overview of your channel's performance as well as data on Reach, Engagement, and Audience. Keep in mind that this screen reports on the performance of your entire channel. If you want to see analytics for a specific video, you need a different screen.
How to see Analytics for a Specific YouTube Video
1. Sign-in to your YouTube Account
2. Click the round profile image in the upper right, this will open a menu
3. Select YouTube Studio from the drop-down
4. Find and click Content in the menu on the right
5. Hover over the video you want to analyze
6. Click the Analytics icon
Here you'll find reach, engagement, and audience statistics for the video that you selected. Let's take a look at each of those, and what they can tell you about your video's performance.
1. Video View Count: Are people watching your video?
If your primary goal is to be seen by as many people as possible, reach is your most important metric. The reach tab gives you information about how many people watched your video, but also about how many people could have watched. It shows Impressions—the number of times YouTube showed your video thumbnail—as well as the Impression Click-through Rate. Each of these can help you understand how well your video is doing.
Impressions
A high number of impressions means that many people are searching for videos like yours or that the YouTube algorithm assumes your content is relevant and is showing it to site visitors. Keep in mind that impressions are only tracked on the Youtube website and apps. If your video is embedded on your website, shared in an email, or appearing in the YouTube music or kids apps, YouTube doesn't count that impression.
How to increase impressions: A low number of impressions may mean your content isn't related to a popular enough topic, or that your topic isn't immediately clear to the algorithm. Do your research to create content that's relevant to viewers. Then, make sure you've included relevant keywords in your title and description so both users and YouTube understand what this video is about.
Impressions click-through rate
Stated as a percentage, this metric shows how many impressions turned into clicks. Many of the people who see your thumbnail won't click on it. With 500 hours of video uploaded to YouTube every minute, your video has a lot of competition. Your click-through rate shows whether your video description and thumbnail were interesting enough to grab attention.
How to increase impressions click-through rate: Surveys show that the average click-through rate on YouTube videos is 4 to 5%. If your videos are doing better than that, they're above average. Good job! To improve your click-through rate, include an eye-catching thumbnail and title. Then make sure your description isn't just a keyword stuffed mess. It needs to give viewers a clear idea of what they can expect when they click your video.
Views
Theoretically, views are the number of people who watched your video. Why only theoretically? Because view counts only tell you that your video played, it doesn't tell you whether the person watched the whole video or if they were paying attention when they did so. While views tell you something about your video's performance, they're not the most important metric.
How to increase views: If your thumbnail, title, and description are all good, check the video itself. It should look professional and feature high-quality sound or captions (ideally, both!). Make sure you have a video hook in the first few seconds, something that will draw viewers in and keep them watching. This could be a question, a promise, or an interesting visual.
This video we made for Simplist hooks viewers immediately with the question: Can these people find a mortgage in a way that's painless?
Off-platform ways to increase view count: What you do off YouTube is equally important. Sharing your video on social media, in email, and through blog posts can help push viewers toward your content. Of course, ads can help too.
Two metrics can help you figure out if your off-platform strategies are working—Traffic Source Types and Traffic Source: External Metrics. You'll find them under the main graph on the Reach tab. These metrics tell you how viewers are discovering your video.
2. Engagement: How is your audience retention?
Views alone don't tell the full story of how you're video is doing. You need to combine that information with your audience retention metric. It might hurt to see that people stopped watching your video after just a minute and 40 seconds, but such feedback is vital for improving your video marketing strategy.
The Engagement tab includes two important pieces of information—average view duration and average percentage viewed. Keep in mind that every video has an initial drop-off, and no video gets 100% engagement. In the example above, people watch about half the video on average. That's actually a fairly predictable result. The ideal video length is about 2 minutes, so drop-offs around that time are to be expected.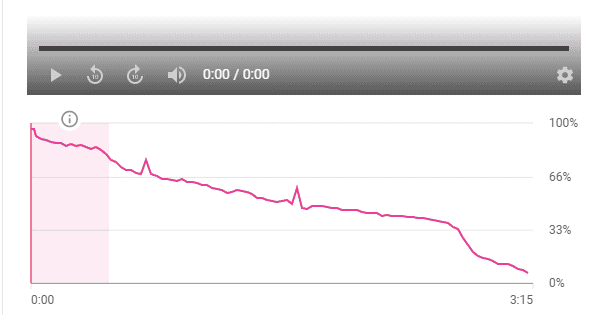 How to increase average view duration: If you notice a sharp drop-off at the beginning of your video, check that viewers are seeing what they expect. If your title promises 3 YouTube metrics worth tracking, are you delivering three metrics, or are you talking about unrelated topics? A drop-off around the two-minute mark is predictable, which means you can do something about it. This might be the perfect time to do a quick CTA or introduce a new hook to encourage viewers to stick around.
3. Audience: Who is watching?
The last YouTube Video Metric you should definitely track is your Audience. This helps answer the question: who is watching your videos? If you're trying to expand your audience, or reach a specific group of people, this information is vital. The Audience tab counts:
The number of unique viewers – people who watched your video at least once
Average views per viewer – how many times each person watched
Subscribers – how many people subscribed after or while watching this video
Age and gender of viewers
Where they're from
How long subscribers watched
The value of most of these metrics is obvious. The exception is Watch Time From Subscribers, this tells you what percentage of the people who watched your video were also subscribed to your channel. If your goal is to build long-term relationships with potential customers, you'll want to pay close attention to this metric. Subscribers who watch your content are likely to be engaged customers. So make sure you're delivering content that interests them.
How to improve audience metrics: Your audience demographics should reflect the ideal customer that you're trying to reach. If they don't, you may need to do some research to better align your content with the type of videos that customers like yours want to see.
Keep Improving Your YouTube Video Metrics
YouTube is the largest video platform in the world and it comes with some powerful video metric tracking tools. Learning to decode these can inform your video creation process. They help you get to know your viewers and give them more of what they're looking for.
Of course, the best way to improve your YouTube Video Metrics is to start with a high-quality video. The video creation experts at IdeaRocket can help you create videos your audience will love. Contact them to get started.